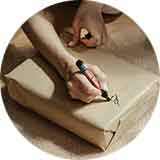 Your Journey Begins Here
Learn how Blind Date With A Book works
How Blind Date With A Book Works
Browse through our carefully curated selection of wrapped books, each accompanied by an intriguing teaser and genre.
Choose a book that piques your interest and get ready for the reveal.
Double-tap or click 'Unwrap', and the actual book cover will be unveiled, introducing you to your next reading adventure.
Find your match and get it from your local library, bookstore, or order it online!
Our Latest Book Picks
Ready to meet your next favorite book? Dive into our newest picks spanning all genres – your literary adventure starts here!
Prepare to be captivated by a heartwarming tale where peculiar relationships collide, secrets unravel, and unexpected connections give thanks for the true essence of family.

Amidst a world shattered by cataclysmic destruction, a mother must navigate treacherous alliances and unlock her hidden power to save the one person she loves most.

In a heart-rending letter, a son unveils a hidden family history, exploring love, race, and masculinity with brutal honesty. A breathtaking journey from silence to revelation awaits in this unforgettable debut novel.

Descend into the depths of a foreign planet's treacherous caves, where an expedition turns into a psychological nightmare. Paranoia, secrets, and a haunting presence await in this gripping sci-fi thriller.

EpicFantasy
Queendom
ForbiddenMagic
Dragonrider
RisingChaos

In the heart of New York City, multiple individuals discover hidden powers that connect them to the pulsing soul of the metropolis, binding them together in a fight for its survival.

NatureWisdom
GiftsofEarth
Sacred
MythicScience
EcoHarmony
ListenLearn
Explore Book Genres
Explore a rich tapestry of tales across diverse genres. Whether you're seeking thrilling mysteries, enlightening nonfiction, or journeys into imaginative realms, your next surprise read is just an 'unwrap' away.
This Week's Featured Genre:
Thriller
See our newest picks in the world of Thriller
GhostlySecrets
DarkChoices
Unbreakable
VanishingAct
Historical
LostAndFound
Chilling

In a secluded village, a reclusive woman's fascination with astrology and her peculiar bond with animals take an eerie turn when bodies start piling up. Will she uncover the truth before it's too late?

Unearth a clandestine world of forbidden literature, where each word holds a dangerous secret and one man's quest for redemption unravels a haunting mystery.

Unearth the secrets of a small town, where danger lurks in unexpected places and a young woman's animal instincts reveal a whole new side of herself. Can she embrace her wildness without endangering those she loves?
Discover Reading Adventures!
Dive into reading adventures. Discover how readers can unwrap unexpected joys, explore uncharted genres, and find new favorite books in our unique 'Blind Date With A Book' experience.
Meet Sarah, a sci-fi enthusiast who discovered her new favorite historical fiction novel through a blind date with a book. A world she never thought she'd enjoy was unveiled, broadening her reading horizons.

Meet Ang, a devoted romance reader, unwrapped a mystery novel. The suspenseful narrative captured her interest in a way she didn't expect, turning her into a mystery lover and expanding her reading interests.

Meet Dmitri, a retired teacher, unwrapped a gripping historical fiction novel. He was thrilled to find an engaging way to indulge his love for history, transporting him back to times he'd only read about in textbooks.

Sign Up For Hartfield's
Blind Date With A Book Newsletter